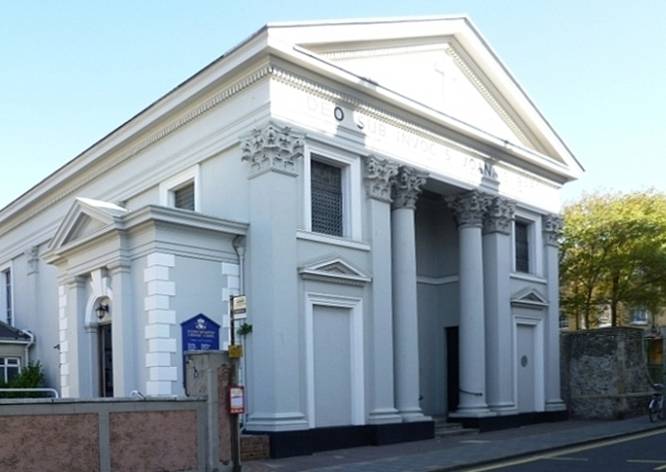 Each parish is required by Canon Law to have a Finance Committee whose role is to advise the Parish Priest on all significant financial items. One key purpose is to support the Parish Priest so that he can concentrate on his pastoral and priestly ministry. Our committee meets monthly and covers buildings and resources as well as finance.
The members are nominated by the parish priest. If you are interested in getting involved please get in touch with the chair, Tad, or Father Kieron.
MEMBERS
The current members are Tad Matus (chair), Canon Kieron, Ben Gray, Simon Keane, Janine Nahapiet, Ted Osborn, Nick Wells with AnnMarie Klein as Administrator.
INCOME AND EXPENDITURE
The parish relies for its income on two main sources – the offertory and donations given by parishioners, and rental income received through the property we own. In our case we are hugely reliant on the rental income, as the offertory covers less than half of our running expenses.
We are required to pay part of the costs of the Diocese, and local major expenditure notably the costs of heating the churches, normal maintenance of our property, running the office, running liturgical and sacramental programmes, and the living expenses of the priests.
The priests have no direct income except the Christmas and Easter collections, and some fees received for dedicated masses.
PROPERTY
Both of our churches are grade 2 star listed buildings (listed here and here). This national heritage grade is defined as particularly important buildings of more than special interest. We have the only two churches with this designation in the whole Diocese, beaten only by the cathedral which is grade 1. It is wonderful to have these environments at the heart of our worship, but with it also come particular responsibilities and costs. We are very limited in any alterations we make, so that the original inside and out is preserved, and every repair has to use heritage contractors and materials at significant cost.
The parish also owns the Fitzherbert Centre at St John the Baptist, including the church hall, the presbyteries at both churches (the one at St Joseph's being rented out to the Wellspring Community), the church hall at St Joseph's, and one house in Elm Grove also rented to the Wellspring Community.
Both church halls and the house in Elm Grove require significant repair and renovation.
CAPITAL FUND
The parish benefits from a significant fund formed by the proceeds of the sale of St Francis' church, together with a bank balance previously held by St John the Baptist parish. That balance and a significant part of the sale proceeds were spent on the renovations to the Fitzherbert Centre and SJB presbytery. Another £150,000 was spent on the internal renovation at St Joseph's – primarily a new floor and glass screening.  The Diocese expects these funds to be used for capital projects that fulfil our parish mission: Loving Jesus, living and sharing our faith, welcoming all.  £175,000 from the St Francis sale is being invested in the new Fitzherbert Community Hub development to provide improved parish facilities and a social hub to relieve food poverty and reduce social isolation in Kemp Town. The remainder is being held in discussion with the diocese for the next strategic developments – one of the key areas under consideration is the future of St Joseph's Hall.
ACCOUNTS 2022
| | | | |
| --- | --- | --- | --- |
| INCOME | 2020 | 2021 | 2022 |
| Property rent | £68,499 | £77,541 | £74,455 |
| Offertory and donations | £72,800 | £84,163 | £75,911 |
| Gift aid claimed | £14,171 | £22,321 | £11,390 |
| Other | £11,230 | £17,318 | £11,995 |
| TOTAL | £166,699 | £201,343 | £173,751. |
| | | | |
| EXPENDITURE | | | |
| Property – maintenance | £55,490 | £58,425 | £24,532 |
| Property – gas and electricity | £16,578 | £15,313 | £21,915 |
| Property – other | £32,726 | £22,478 | £24,105 |
| Office running costs | £6,577 | £5,550 | £7,852 |
| Liturgy – supplies and licences supporting mass | £9,160 | £6,319 | £7,010 |
| Pastoral – supporting sacraments and ministries | £1,488 | £1,954 | £5,093 |
| People – staff salaries and clergy travel/housekeeping | £53,169 | £50,698 | £73,680 |
| Levy paid to the diocese | £26,369 | £18,575 | £23,004 |
| Clergy Christmas Easter topup to minimum | £1,381 | £0 | £8,701 |
| TOTAL | £202,936 | £179,313 | £195,890 |
| | | | |
| GAIN/LOSS ON THE YEAR | -£36,236.60 | £22,030.24 | -£22,139.03 |
Alongside our general accounts, we receive and pay through funds for dedicated purposes.
The 2 purposes have been:
– Direct giving to the clergy – this consists of Christmas and Easter offerings, donations for funerals, weddings, baptisms, and specific masses. From 2020 the Diocese, because of the covid disruption, set a minimum that each priest should receive at Christmas and at Easter. This minimum was higher than parishioners had given in previous years.
– and donations to provide a fund to pay food bank costs
| | | | |
| --- | --- | --- | --- |
| Clergy received and paid through | £13,703 | £19,752 | £17,080 |
| Food bank donations received | | £31,764 | £12,484 |
| Food bank funds spent | £0 | £10,306 | £30,414 |
COMMENTARY
These have been extraordinary times for everyone.  Individuals and families have suffered in many ways, including financially.  In reporting on the financial position of the parish, we wish to acknowledge and thank parishioners for what they have done during both Covid and the current period of financial stress to support the parish and each other.
However, the accounts show that we run at a loss. We made a loss of £7,300 in 2019, then during the covid period expenditure increased but income was delayed, so that the years 2020 and 2021 should be considered together ( average loss £7000) rather than separately. This more than exhausted the balance in our parish revenue account.
We are managing expenditure tightly (as you will know from the heating of churches), but we still see it as vital that we further our mission, through initiatives such as the part time appointment of Julia Wingfield as director of family ministry, rather than just maintaining and heating buildings.
In 2022 the deficit has increased significantly through inflation and the part year increase in gas and electricity. Next year will increase the deficit further through current levels of inflation, the full effect of gas and electricity increases, and necessary building repairs.
Our ability to increase rental income is very limited. Offertory and donations currently cover only 40% of our expenditure, and have to be a main area  we would hope more could be done.
It is a difficult financial time for everyone, but can you help?  There are some areas you might consider.
GIFT AID
Gift Aid is a government scheme that enables charities like us to get an extra £1 for every £4 given by a tax payer. This is we are given back the tax that has already been paid on the money given. The only requirement is that you pay tax on income, savings, or investments. Sign up is a simple form we take you through, and what you give is confidential – the priests do not know, and it is not linked to your national insurance details.
In our financial situation it would make a REAL difference if everyone who does pay tax took advantage of this.
STANDING ORDERS
The majority of our offertory is still in cash. Many people really help us by making their main giving intentional. They have a standing order that covers the standard amount they have chosen to give, and then anything extra can be given on the day. This both saves us considerable administration time and cost, and ensures that the offering is intentional, not a last minute thought.
We can help you set this up. If you already have a standing order – thank you?  But you may want to think about how long it is since you considered how much you give.
MINIMISING CASH DONATIONS
There is now only one HSBC branch in Brighton and Hove with a counter service, and unfortunately counting and banking cash offertory, particularly with the weight of coins, is proving really difficult and expensive in staff time. We would ask people not to give coins lower than pounds, and instead to use other means, such as contactless payment or standing order.
GIFT AID – An opportunity and a priority
Gift aid is a government scheme for charities which enables us to claim an extra pound for every £4 given by parishioners who pay any tax (on earnings, pension, or investments). The requirement is simply that the person signs a simple form to enter the gift aid scheme, and then gives in a way that can be counted and claimed rather than in the open plate. Since we run at a loss it is particularly important in our parish that we do not lose this benefit. We already benefit significantly from this – by £15,848 in 2020.   However, we are aware that the number of people signed up to gift aid here is unusually low, particularly at St John the Baptist. As a result, the parish is  losing out on at least £8,000 each year.
We urge anyone not already signed up to contact the office, discuss any questions they may have and enable us to get the parish this very easy extra benefit.
WILLS
We have been really helped in the past by the generosity of people nominating a donation to the parish in their will. It may just be appropriate for some people to consider this for the future